Shiatsu is an ancient Japanese therapy, literally meaning 'finger pressure'.
Touch is the essence of Shiatsu and gently uses the fingers, thumbs and palms to relieve symptoms.
I manage many common conditions including :-
Headaches and Migraines
Back pain.
Digestive problems and Irritable Bowel Syndrome
Insomnia
Circulation
Joint pain
Asthma symptoms
Depression
Menstrual Pain
Stress tension
Whiplash
I specialise in all stages of pregnancy, from helping to prepare the body for a healthy pregnancy through to post-natal health.
Shiatsu Treatment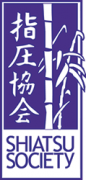 I give Shiatsu treatments while you lie comfortably on a futon or sit on a chair. You wear loose clothing (such as a tracksuit or T-shirt and leggings and socks) and you remain clothed throughout the treatment.
Gentle touch is the essence of Shiatsu treatments and I use my fingers, thumbs and palms to relieve many common conditions.
Treatments are initially given weekly or fortnightly and when your symptoms improve, treatments are advised at appropriate future intervals. Shiatsu clients may benefit from long-term Shiatsu treatments to maintain optimum health.
Your first visit includes discussing your medical history to give me knowledge of your health. I advise on diet, exercise and lifestyle so you can understand and maintain your optimum health.
Plenty of water should be taken after the session to keep you hydrated. You should not eat heavily for two hours prior to the treatment and you should avoid alcohol on the day of your treatment.
For more information read my Shiatsu FAQs
DISCLAIMER: Isobel Gordon has public liability insurance. Isobel takes no responsibility for adverse effects outside the home therapy room.